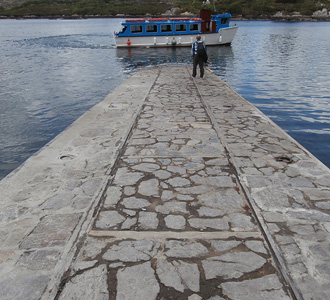 Contract Details
Cumnor Construction Ltd. carried out the role of Works Contractor and PSCS for this project.
The project involved remedial work to the pier and slipway. The pier remained open for the duration of the project with the work carried out in stages in liaison with the ferry operators. The contract was completed in an environmentally sensitive area. All plant and tools to carry out the work were transported to the site by ferry barge each day.
The work included high-pressure power cleaning of all marine-based vegetation. The existing damaged stone masonry cladding was removed and replaced with new masonry stone. Existing stone was used where possible. Soil nails were installed along the slipway and grouted into position. Reinforced steel was installed around these soil nails and concrete was poured to form a new reinforced concrete beam to the edge of the slipway.
The existing masonry stonework was replaced and stainless steel mooring rings were installed into the newly formed surface. Grouting was carried out and fenders were erected to the side of the slipway using stainless steel fixings.
Contract:
Repair Work to the Pier and Slipway at Garnish Island, Glengarriff, County Cork
Client: Office of Public Works
Year: 2014